Posted in: General News
Ready for Business is thrilled to have been nominated as finalists in the 'GO Procurement Team of the Year Award – Other Organisations' category of the Government Opportunities (GO) Excellence in Public Procurement Awards Scotland 2015/16.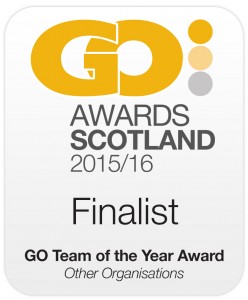 We are delighted at this recognition as the level of competition for this year's awards has been extremely high, with the awards receiving their largest number of entries ever! It's great to see our procurement activity acknowledged and commended and we look forward to finding out who the winners are at the ceremony on Tuesday 6 October 2015 at the Marriott Hotel in Glasgow.
The GO Awards Scotland are the benchmark by which progress in this £10 billion sector in Scotland is measured.
"Fantastic! Just six months after our biggest National GO Awards, we return with our biggest ever GO Awards Scotland. We never take these awards for granted, but our firm belief in celebrating excellence in procurement and profiling those organisations who continue to excel in their field and make genuine differences to everyday life, pushes us to raise the bar each year. Well done to everyone who entered – picking the winners this year is going to be a mammoth task!"
Grahame Steed, Government Opportunities Managing Editor and Lead Judge, GO Awards Scotland 2015/16
The full list of finalists for the GO Awards Scotland 2015/16 can be found here.